A strong employer brand can go a long way in helping you attract top-tier candidates, and social media is one of the best ways to promote it. LinkedIn is particularly useful because of its ability to reach over 500 million professionals who use the site, as well as those who find it in the top of their Google search results. While many organizations are already using LinkedIn for sourcing candidates and posting jobs, fewer are maximizing their LinkedIn Company Page for recruitment. Here are some tips to help you jazz up your Page:
Ready, set, wait
Before you get started, you will need to get some of the administrative stuff out of the way. First, determine if anyone else at your company is currently utilizing your LinkedIn Company Page. If so, work with them to build out a strategy to share the Page. Ask them to provide you with Admin access to the Page so you can post content and view analytics. You may also need access to your organization's social media management tool, if one is used. If nobody is currently using your Page, you should still work out a strategy and may need to contact LinkedIn to gain Admin access. Finally, ensure that all of the information on your LinkedIn Company Page is completely filled out.
Post employer branding content
Candidates, customers, and prospects alike enjoy a behind-the-scenes view of your organization. Share articles, photos, and videos on your LinkedIn Company Page to showcase your employer brand. Include pictures of company events, a video office tour, and a-day-in-the-life posts from employees. You win bonus points if those pieces of content lead back to an employer blog on your career site, so curious minds can easily learn more about your company and opportunities.
Target Company Page content
If you have content that's only appropriate for a subset your Company Page followers, you can use the Targeted Audience feature. You can target by language, geography, job function, university, degree, field of study, industry, company size, and seniority. This is great if you want to promote company benefits that are only available in certain locations, or share an open opportunity with just the people who would potentially qualify.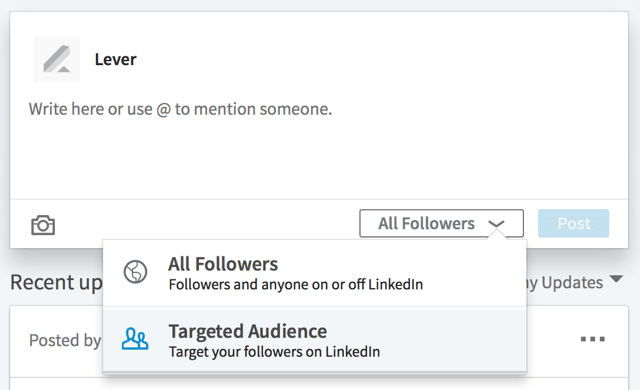 Use sponsored updates
Extend the reach of your employer branding content beyond your followers, and target the exact people who should be seeing it, with sponsored content. You can sponsor a post from your LinkedIn Company Page, or create a new post that will only show to people with your desired demographics (rather than all of your Page followers). Again, this is particularly useful for location-specific content and job postings. This is a paid option, but you will only pay when someone clicks on your sponsored content.
Create a Showcase Page
LinkedIn Showcase Pages are free, and serve as extensions of your Company Page that can be used for more specific content. If, for instance, your marketing department doesn't want to share your organization's Company Page for recruitment messaging, you can create a Showcase Page for employer branding instead. Or, if you want to create specific content for a group of candidates—like software engineers or candidates in a certain metro area—you can create a Showcase Page for them. Candidates can access Showcase Pages from your main Company Page, and can follow each Page separately—ensuring they see the exact content they're interested in.
Add a LinkedIn Career Page
LinkedIn Career Pages allow you to add a Life tab and a Jobs tab to the top of your Company Page, for a fee. The Life tab shows candidates what it is like to work at your organization. You can share photos, videos, employee testimonials, and more, with the great mix of rich media and text modules available. The Jobs tab lists the opportunities you've posted on LinkedIn, personalized to the viewer. These options give Company Page visitors more information about your organization, without having to leave LinkedIn.

Utilize Work with Us Ads
If you've posted your opportunities on LinkedIn, you can drive additional traffic to them with "Work with Us" ads. These ads appear on your employee's profiles, which may increase the instance of candidates asking your team members for referrals. They also appear on your company page, and block competitors from placing their ads in both of those places.
Encourage employee advocacy
Gone are the days when organizations discourage employees from utilizing social media in the workplace. Social networking, particularly on LinkedIn, has many business advantages—including increased reach. Encourage your employees to follow your LinkedIn Company Page and engage with your content. Shares, comments, and likes get your content in front of new people who may be interested in your open opportunities. Again, this may increase employee referrals, which are well known as a great source of hire.
Conclusion
LinkedIn has a wealth of resources—some free and some paid—available to help you recruit the best talent on the market. While sourcing candidates and posting jobs on LinkedIn are certainly worthwhile endeavors, there is a tremendous opportunity to use Company Pages for employer branding. This will help ensure that you're driving great talent to your opportunities, and giving them the information they need to convert to candidates—whether that means applying or responding to your cold outreach.