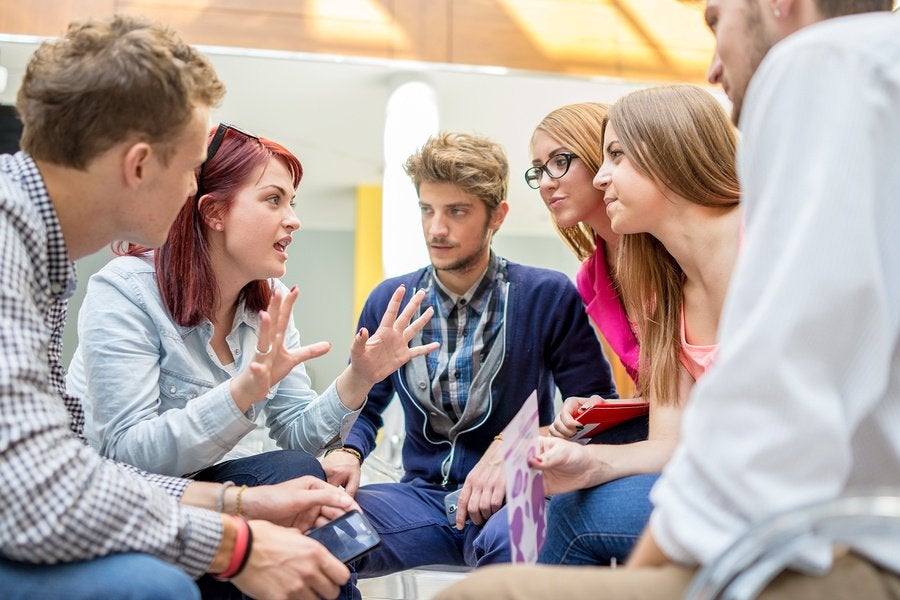 Through a combination of your stand-out employer brand and game-changing candidate sourcing strategy, you've piqued the interest of your dream software developer. At last, you can confidently enter her name into your applicant tracking system. Considering that she's a millennial, however, you have a feeling she has some different expectations for a remarkable interview process.
In this week's installation of our How to Recruit Millennials in 2016 content series, we're talking about how to create a candidate experience that resonates strongly with millennials. After synthesizing the insights of Brand Amper's employer branding expert Jason Seiden, Lost My Name's talent lead Jessica Hayes, Tune's technical recruiter Mike Lew, and The Muse CEO Kathryn Minshew, we have 5 ideas for you to try out today.
Welcome candidates into your home
When you invite guests to your house, how do you treat them? What steps do you take to prepare for their visit, and how do you greet them when they walk through the door? "Welcome someone into your home, and you're going to answer the door, look them in the eye, and you're not going to hide anything," says Jason Seiden. "You are also going to expect them to present their best self." According to Jason, companies should welcome candidates in the same way. Not only should you focus on making candidates feel comfortable, you should present who you genuinely are. In the midst of constant solicitations, millennials don't want to see you put on a show for them.
Kathryn Minshew is always surprised by how many companies ignore basic rules of etiquette when they interview candidates, then switch the magic on when it's time to give them an offer. At The Muse, Kathryn says, every interviewer studies the candidate's resume before the interview. It's essential to respect each candidate's time and energy investment from beginning to end of their interview process.
At TUNE, Mike's team goes one step further. To ensure that each candidate has a memorable visit, he and his team members give them a TUNE gift, or a small box of M&Ms with the TUNE logo on it. And to thank the candidates who journey from far away, his team gives out a travel mug or water bottle. Small gestures like these can send a powerful message to candidates.
Treat candidate experience like a two-way street
If you think the pressure to perform always rests on the candidate, it may be time to change your approach to candidate experience. Considering that many millennials have access to hundreds of career sites, they are likely evaluating your opportunity alongside several others. To set yourself apart, show them how deeply you value their thoughts. After her candidates interview with other team members, Jessica walks in the room to ask how they felt about their process, whether or not they'd like to meet anyone else, and how else she can help them with their decision. She'll even give the candidate a tour of the office to provide a better sense of the overall culture.
Without exception, Kathryn sets time aside for candidate questions in her interviews. "Spend time all the way through the process helping them understand why you might be the right fit," Kathryn recommends. "Don't wait until the offer to the give them the chance to ask questions." If a candidate is interested in two companies, but they've learned much more about one than the other, it's easy to imagine which one they'll choose. You will lose candidates if you don't empower them with information.
Along with giving candidates the opportunity to ask you questions, you can give them the chance to learn from your feedback. During her time as a recruiter, Jessica has carefully refined a system for candidate engagement. At the end of each stage, she provides feedback and clarifies what the next stages of their process will look like. If the first round interview is a phone call with me, says Jessica, I will tell them what they can learn before their next interview. I'll also give them the names of their next interviewers, provide a link to the interviewers' LinkedIn profiles, and suggest small ways to improve before they come on-site.
When candidates make it to the later stages of her process, Jessica stays true to her vow to provide interview feedback. If she ultimately decides not to move forward, she explains the strengths and weaknesses she saw and which blogs might be useful to read to increase their industry knowledge. If the candidate is promising but the timing just isn't right, she'll make a note to reach out in three months to check in on their job search.
Create networking opportunities whenever possible
According to research by PwC, many millennials say that creating a strong, cohesive, team-oriented culture at work is essential to their workplace happiness. During the job search, they want to see the opportunity to build a sense of community.
With these findings in mind, it's easy to assume that millennials want to meet as many of your team members as possible during their interview process. How do you make that happen? Invite them to an event that you're already planning, such as a happy hour or a panel of your industry thought leaders. Away from the confines of a stuffy conference room, they can relax and connect with your team members without feeling the need to prove how qualified they are.
At TUNE, Mike schedules his interviews around lunchtime so that candidates can interact with more team members. Through providing lunch as either the warm-up or break between interviews, Mike puts his candidates at ease and shows them what everyday life is like at his company. Yes, lunch can be an opportunity for you as the interviewer to get to know your candidate. More than anything, however, it is a simple way to spice up your candidate's interview experience.
Show millennials which problems they can solve
According to Mike, the number one characteristic that millennials look for in potential companies is type of experience. "Millennials aren't motivated by what they can put on a resume," Mike says. "They want to know: what is this job or company going to expose me to? How am I going to feel going to work everyday? Where can I make an impact?". This craving for "experience" goes beyond understanding what tasks they'll have to perform at work each day. They want to know which challenges they can tackle and ultimately learn from. Jessica has discovered a similar pattern in her interactions with millennials. More than thinking about securing a well-paying job and saving up for a house, candidates are thinking about how they can get their hands dirty and solve immediate problems.
How can you give candidates that glimpse into what you're solving? Jessica suggests asking them to solve a problem that you're actually facing within your company during their interview. After seeing this strategy more and more on engineering teams across companies, she believes it can be an effective way to exercise transparency with candidates.
Practice, don't just preach about, an inclusive interview process
As she has committed to facilitating more inclusive hiring practices amongst several companies, Stephanie Lampkin has encountered many millennials who expect to join diverse companies. This expectation, Stephanie says, can be attributed to how deeply millennials value company culture and overall positive community impact.
If you want to show candidates that you value diversity, Stephanie has a couple ideas for you. First of all, have a woman or person of color amongst the interviewers, says Stephanie. If you don't see someone like you in the people you're talking to, it shapes what you think of the company. Your candidate may be hesitant to join a company where they are underrepresented, so it's important to show them that they could be successful on your team.
Stephanie also believes you can create a more inclusive interview process through holding recruiters and hiring managers accountable. "At Blendoor, we're creating a recruiting scorecard to rate interviewers on how biased or unbiased they are when they interview," says Stephanie. Stephanie believes that people are much more conscious of their behavior when they're not being watched.
Conclusion
Many millennials see their interview process as more than a sneak peek of their future day-to-day. Instead, they believe it should give them the full picture. As you think about how to craft an ideal candidate experience, consider how you can make that picture as vivid as possible.
Haven't been able to keep up with our series on recruiting millennials? Check out our latest post on how to source millennials in 2016 here. And subscribe to our blog for a first look at our post on how to close millennials, coming next week!