More organizations are stepping up their diversity, equity, and inclusion (DEI) programs.
In the tech industry alone, a 2021 study by BuiltIn reports that before 2020, only 26% of tech companies had a DEI policy or manifesto in place. That number rose in 2020 up to 46% and is projected to reach 56% within the next year. Clearly, awareness is growing around the need for more DEI programs in the workplace.
This is all promising news. But the question remains; from a practical standpoint, how do you actually get a DEI initiative off the ground?
Lever teamed up with 360Learning for a panel discussion on that very question. Speakers Shweta Jacob (Recruiting Lead at Lever) and Caroline Solis (Director of Product Marketing at 360Learning), talked through key milestones, best practices, and perspectives to have in mind when launching or expanding a DEI program. 
Below, we share the actionable highlights of their discussion, which include action points for hiring managers, recruiting teams, and individual contributors.
Tips for creating an empathetic work environment
Empathy—the ability to understand someone else's perspective and respond with compassion—is increasingly recognized as a key component of a healthy, productive workplace. The Center for Creative Leadership, in a survey of 6,731 managers, positively correlates empathetic leaders with high performance. 
How can companies go about creating a more empathetic workplace?
From an individual contributor's perspective, it can be as simple as working together on a shared project. At 360Learning, Caroline shared one of the Collaborative Learning initiatives led by an individual employee: peers co-creating courses about female pioneers for Women's History Month. Not only does group work foster cross-team understanding and empathy, but the project itself—highlighting the historical achievements of an underrepresented group—was a way to widen perspectives.
From a recruitment point of view, Shweta explained that empathy starts with the very first touchpoint a candidate has with your company. Representing your organization in an authentic but inclusive way on your website is important; Lever, for example, shares transparent figures about the company's composition with prospective hires. 
Then, it's about candidates and recruiters getting to know each other as people. Shweta invites applicants to share their correct pronouns with her, and new hires will fill out a color (personality) assessment—again, to give teams the tools they need to understand each other's perspectives.
One such exercise that Shweta finds useful was a journey line activity. The idea is for employees to share with each other a brief history of their lives—where they were born, what it was like growing up there, and the challenges they may have faced—with the wider group. This kind of personal information, while sometimes tough to share, can help give others the perspective they need to react empathetically.
Embrace a collaborative, "always learning" approach to DEI 
Hopefully, your DEI initiative will make everyone feel welcome—that's the idea behind inclusion, after all. 
One of the best ways to get more people involved is to make the barrier to entry as low as possible, Caroline recommends. "Getting involved" might mean attending a 45-minute Employee Resource Group (ERG) virtual event, or even just leaving an honest comment in a survey about the state of DEI at your workplace. 
Making DEI initiatives practical, accessible, and flexible will go a long way in fostering grassroots participation, and DEI organizers should make it simple to get involved in small, incremental ways.
Shweta explained that at Lever, new hires are encouraged to get to know people from day one, thanks to an 'initiation project.' New employees are assigned, with the guidance of the People Team, a project to complete in their first month that encourages them to get to know people on a variety of teams, including leadership. This gets newbies working together, creating cross-team empathy, and feeling included right from the start.
Foster a culture of psychological safety
Psychological safety—the idea that you can come to work and be your authentic self, without fear of repercussions, bullying, or exclusion—is essential in building a truly diverse and inclusive workplace.
Shweta and Caroline shared a few strategies for creating this kind of safe environment:
Invite

everyone

to share correct pronouns on tools like Slack.

Arrange all-hands or town hall-style meetings, where anonymous questions are asked and answered.

Ensure leadership answers all questions, even the tough ones, and acknowledges when things aren't going perfectly.

Send surveys where employees can answer (anonymously or not) how they're feeling, or signal red flags.

Create Slack communities based on common interests, like cooking or a popular TV series.

Organize an ERG for a marginalized group.

Organize "creative hours" within a team where low-stakes, 'no wrong answer' brainstorms can build collaboration and camaraderie.
No employee should feel that expressing who they are will lead to negative outcomes at work.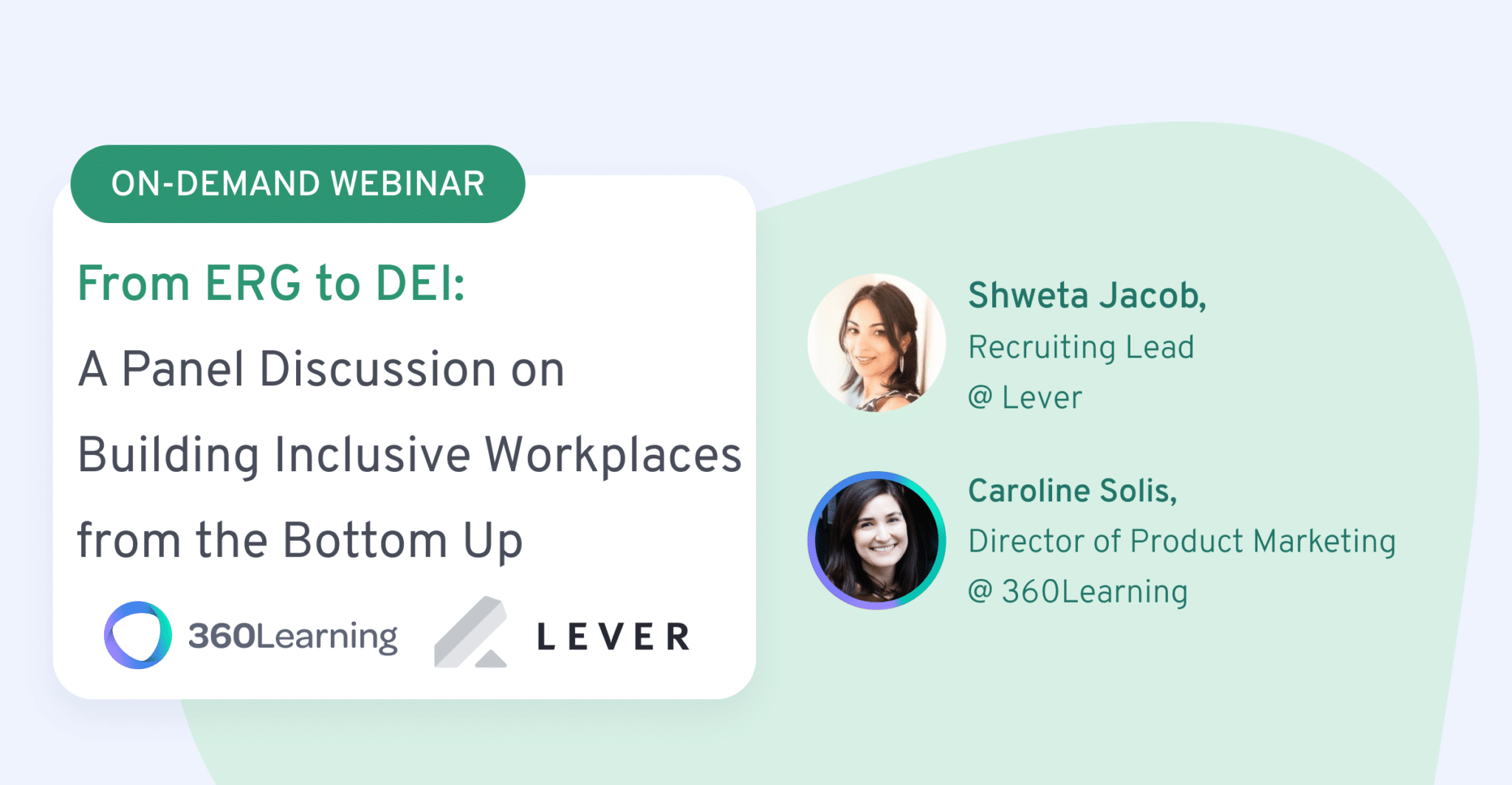 How to get an ERG off the ground
Employee Resource Groups are a great way to support employees who might be part of a traditionally marginalized or underrepresented community. But how do you know what type of ERG to start first, and how do you actually get it going?
Shweta and Caroline agree: always start by asking your employees what would be most useful for them. Send out a survey to get a feel for which ERGs might needed if you haven't already gotten suggestions directly.
At Lever (where there are currently 7 ERGs), they have a clear process for starting a new group: to get an ERG off the ground, they require four employees to join. One member should be a manager or a hiring manager, as well as someone from the People Team, to facilitate best practices. The nascent group will also need to decide on a leader (or two), find an executive sponsor to secure a budget, and organize at least one event per quarter.  
Another key consideration will be to decide which groups will allow allies to join, and which are reserved for people who identify with that community. As Shweta explained, for some groups or events, it's best to limit attendance to those the ERG directly serves, to make it a truly safe space.
Provide DEI training to help recruiters, hiring managers, and interviewers 
One of the trickiest things about embracing DEI is having to deal with one's implicit bias. This is an unconscious bias that you're not even aware you have—but if you're a hiring manager or recruiter, it can still affect who ends up working for your company, and who gets unfairly left out.
This is why appropriate training is so important. Caroline and Shweta both shared examples of training they'd received, as a hiring manager and recruiter, to recognize and limit unconscious bias. Training to know what can and can't be asked of a candidate from a legal perspective is also helpful. 
Organizations should also be mindful of the way they conduct interviews internally. To be sure one person's view doesn't influence others, it's best for interviewers not to share feedback on a candidate before everyone has had a chance to see them. Group feedback sessions (post-interview) on a candidate are also a good chance for colleagues to call out any bias they might see creeping in, even if it can be an uncomfortable exercise. Likewise, asking new hires how they found the recruitment process can help root out bias blind spots.
Remind employees that DEI happens from the bottom up 
While executive buy-in and budget are important, a truly flourishing, diverse, equitable, and inclusive workplace happens when everyone at an organization embraces these principles and gets involved, even just a little at a time.
To motivate employees around DEI, Shweta and Caroline recommend reminding colleagues of the impact they can have from the bottom, up. All employees drive the culture of a company, and that environment is a living space that can evolve as the fabric and needs of a company change. 
People Teams, managers, and leadership should be proactive in soliciting feedback and direction from the wider group in how to move forward with DEI. When these initiatives are based on a genuine need and are embraced collaboratively, there's a good chance they'll take root. You don't have to dive in and make a thousand changes all at once, Caroline reminds us; even a few baby steps in the right direction are enough to make an impact. 
Learn from recruiting pros about building culture from the ground up in our webinar
If you've been considering launching (or fine-tuning) your own DEI project, you may not know exactly where to start—or how to describe the goals you hope to achieve. It can be instructive for organizations to see concretely how a DEI mindset can be applied throughout from the bottom up, from recruitment policies to launching an ERG (Employee Resource Groups) program, and everything in between.
Check out our on-demand webinar with 360Learning for a panel discussion on what it truly means to build a diverse, equitable, and inclusive workplace throughout the entire employee life cycle.