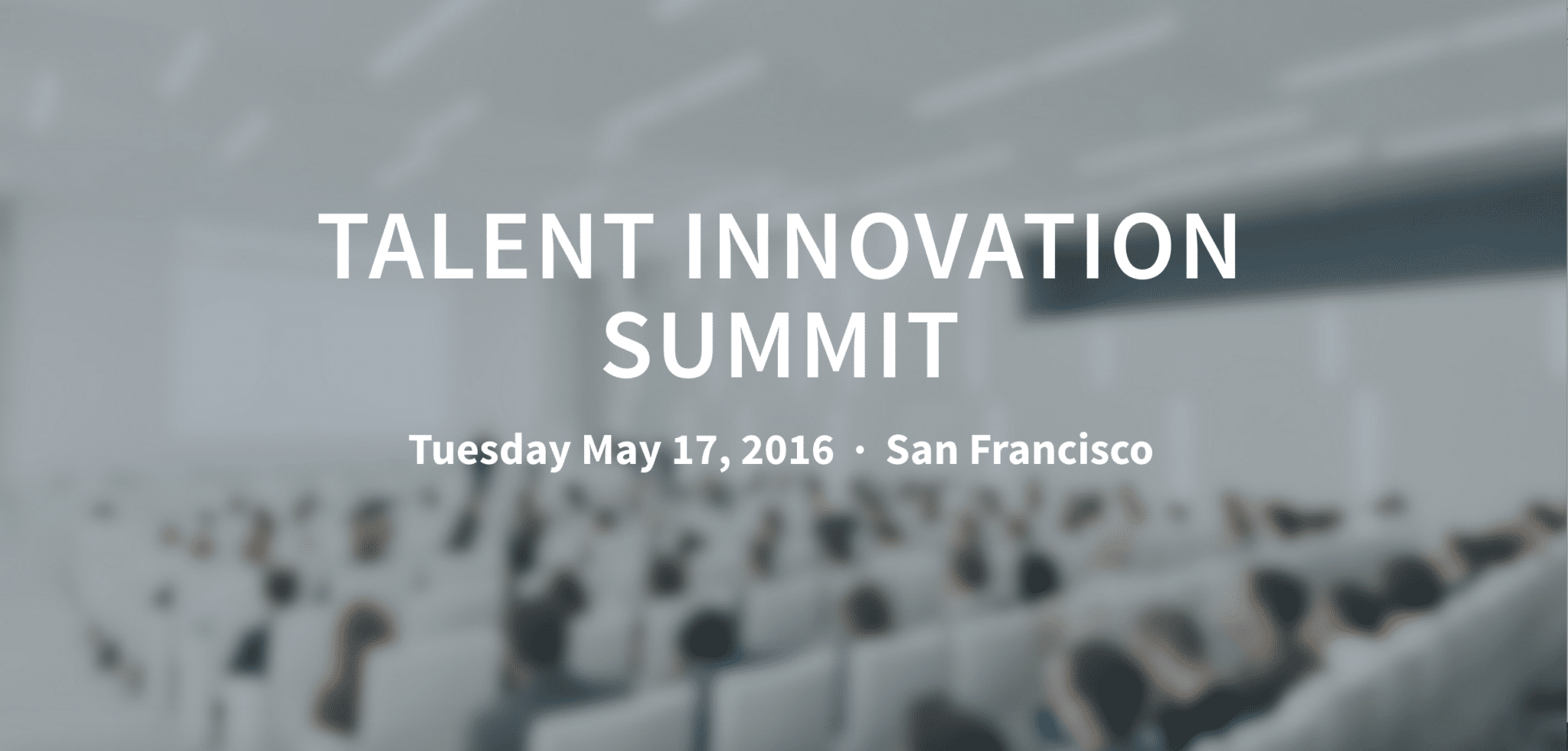 Too many conferences are full of fluff that leave you wondering whether taking the time off work was really worth it. That's why we're condensing our first ever Talent Innovation Summit in San Francisco this May 17 into one jam-packed day. We promise to bring you an impressive roster of expert speakers and panelists, actionable recruiting tips and insights, and a happy hour more fun than Las Vegas.*
Here are five reasons why you should quit dilly-dallying and sign up today.
Reason 1: Innovation!
We wouldn't put innovation in our summit's name if we weren't obsessed with it. Recruiting tactics are stuck light years behind what it takes to be successful in today's extremely competitive talent market, so it's time to trade the old for the new and get up to speed on what the most innovative companies are doing to attract, hire, and retain top talent.
Learn how Netflix built and maintains its innovative culture, how Eventbrite leverages secrets from the marketing playbook for recruiting success, how Lyft supercharged its referral program and saw amazing results, and more. There will be something for everyone – talent leaders, recruiters in the trenches, and even an all-expenses-paid interview training session for hiring managers from The Adler Group.
Look forward to eye-opening keynotes, action-oriented breakout sessions, and an animated panel discussion on the future of ATS from industry-leading analysts that you won't have the opportunity to see anywhere else.
Reason 2. You'll get the inside scoop on the Lever roadmap
Lever has its roots in deep user research. We spent the first six months of our existence embedded inside a well-known hypergrowth company, observing the day-to-day recruiting pain points and needs of their entire team, and since then, the close observation of our users' needs hasn't stopped. We've built a fully-fledged ATS, but learned from countless customer conversations that a recruiter's needs go beyond the functionalities of what we think of as an ATS today. Register for the summit to hear from our CEO, Sarah, about the transformational product updates coming to Lever soon.
Reason 3. We can't wait to see you

Our summit is an all-hands-on-deck effort. Every team is preparing in their own way, and we're all ready for game day! We can't wait to meet our customers (current and future) face-to-face, hear your feedback, and get to know the people who we're serving better.
Reason 4. Network with industry leaders
Schmoozers rejoice! You'll have the opportunity to meet our speakers, panelists, and your peers. Exchange ideas all throughout the day at our mix-and-mingle food truck luncheon, in our intimate break out sessions, and of course, at happy hour.
Reason 5. Our fun-filled happy hour
This happy hour will be a ton of fun, with or without cocktail in hand. Among other treats, there'll be a photo / GIF booth (a staple at Lever events and of Lever culture), caricature artists (we'll be at an art gallery, after all), and a craft brew tasting from some local beerologists. Tell us you're not intrigued.
We hope you'll join us! Register here by May 2. If you have any questions, please email Summit@lever.co and we'll get right back to you.
*Provided you consider innovation, a GIF booth, caricatures, craft beer tasting, open bar and 300 recruiting industry rockstars more fun than Las Vegas.