There's no doubt that the pandemic has impacted people across the world differently. Just one study by Harvard Business Review shows that women's jobs are 1.8 times more vulnerable to this crisis than men's jobs, with women making up 39% of global employment but accounting for 54% of overall job losses. 
In honor of International Women's Day in 2021, we wanted to look at how the pandemic has changed work for women across the globe and raise the question: How can companies better address this divide going forward? 
Here are the three ways the pandemic has changed work for women around the world.
1. Workplaces are becoming less inclusive to women
An article by Fast Company shows that we need to stop the "she-cession" post-pandemic. According to recent research, a quarter of working women are considering downshifting their careers or leaving the workforce altogether, while satisfaction with remote work among working mothers is half that of working dads.
This could be due to the fact that many kids in the U.S. are still participating in school from home. As a result, women have taken on the new job of teacher while also managing existing workloads. Women in general feel unnaturally punished for this reason, with 91% of working mothers reporting being passed up for promotion during the pandemic.
How can employers help?
Organizations can enable women to not feel guilt and instead acknowledge their work with a new lens of the added pressure they might be feeling. Another tip is to abandon the stigma around flexibility at your company. Allow all employees, especially women, to work on their own schedule and evaluate individual work product objectively, as opposed to judging work in terms of meeting attendance and other metrics that don't necessarily move the bottom line for a business.
Workers who have the option to work a flexible schedule report 53% higher productivity and 57% better work-life balance. (Link to research)
2. Women need flexibility
and a
sense of belonging in the workplace 
It's no surprise that employees want to maintain a flexible working model, even once the pandemic has ended. Findings from the Future Forum's Remote Employee Experience Index (based on data from knowledge workers in the U.S., the U.K., France, Germany, Japan, and Australia) provide a snapshot of employees' evolving perceptions of remote work.
For instance, areas that could give employees more purpose in remote environments include:
Productivity

Work/life balance

Work-related stress and anxiety

Sense of belonging

Satisfaction with working arrangement
How can employers help?
The data also showed that investments in the right technology to drive a "sense a belonging" drove much higher positivity scores. As an employer, ask yourself and poll women within your organization to ensure their sense of belonging isn't being ignored in new policies that you create.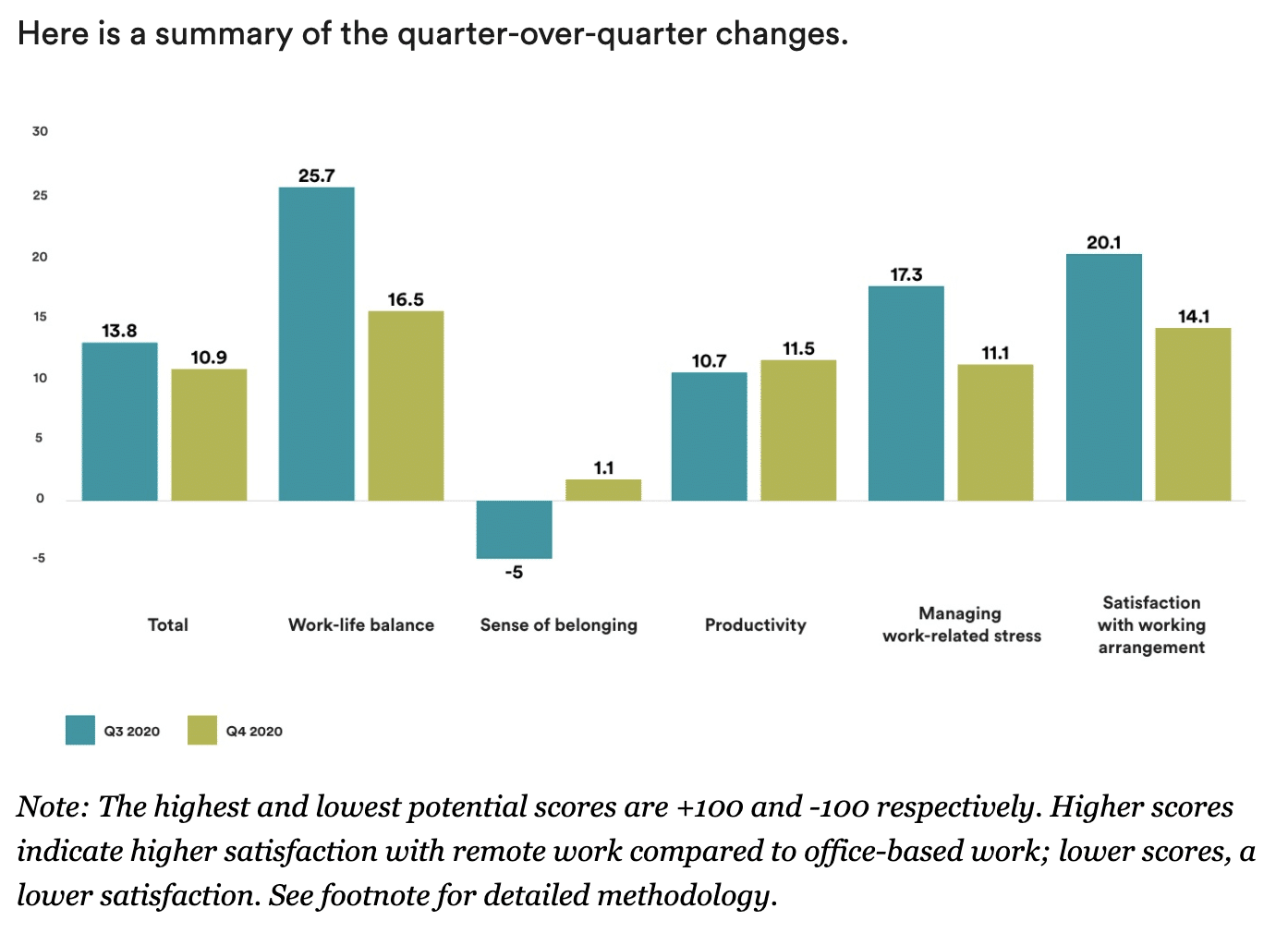 Pro Tip: Attend our upcoming webinar with 15Five on March 10th and see how "belonging" is a key objective to increase employee retention going forward.
3. Evaluate perks through the lens of a working mother
Many companies are limited to apply benefits that appeal to most employees, instead of implementing those that might be more beneficial for working mom employees. Things like happy hours and team outings might actually be harder to juggle for a working mom, as are some perks related to travel.
For instance, Carolyn Everson, VP of Global Marketing Solutions at Facebook, used to take her kids on business trips longer than three days and asked her company to help in terms of covering the cost to bring a caregiver to help while there. This enabled her to do the job effectively without the stress of organizing care for her children while away from work.
How can employers help?
Implement perks that alleviate the stress and added pressure put on working mothers. One example could be a monthly perk at your company related to childcare — that we recently implemented at Lever. Another could be wellness days that allow for those working long hours to unplug and reconnect with their families. 
Final Thoughts: How COVID Has Changed Work for Women Around the World
The research shows workplaces are becoming less inclusive to women after the pandemic. Employers can help women exponentially by focusing on creating a better sense of belonging for working women (mothers especially), as well as implementing perks that will ease the added pressure the pandemic has put on them. We're encouraged to see an overwhelming amount of employers focus on flexibility in the workplace going forward, and increase their focus on diversity, equity, and inclusion. 
To learn more about how Lever is helping companies address the growing divide in the workplace, check out our robust Diversity and Inclusion Handbook to see how your company can make a difference.