/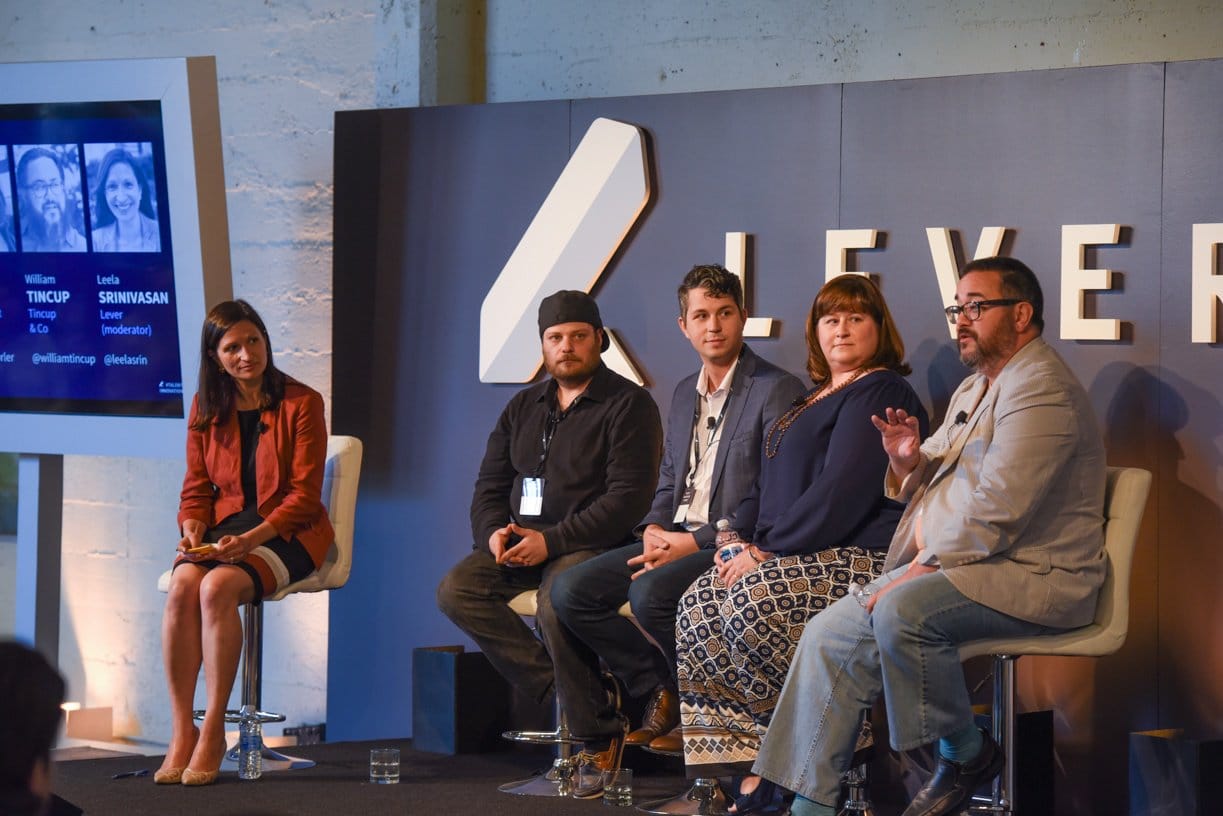 We had a riveting discussion on the future of the ATS at last week's Talent Innovation Summit. While the panel didn't agree on everything discussed, it was unanimous that the applicant tracking system of the future has much more functionality than the legacy systems we've all come to know and loathe. As with other recent technologies, this new breed of applicant tracking systems is being designed to make the recruiter's life easier, and to produce stronger hiring results for organizations that use them.
The panel, led by Lever's Chief Marketing Officer Leela Srinivasan, contained knowledge bombs by industry experts:
Matt Charney, Recruiting Daily

Kyle Lagunas, Lighthouse Research

Elaine Orler, The Talent Board

William Tincup, Tincup & Co
Here are our 3 key takeaways from the panel:
We've outgrown the term 'ATS'
ATS is a 35-year-old category and, as William said, we've outgrown the term and should stop using it. Matt pointed out that legacy applicant tracking systems were built around the same time as job boards, and were meant to be transactional. While the internet has changed, code base and functionality have not. As Elaine mentioned, recruiting evolved faster than technology could. Recruiters have evolved from moving the volume to becoming talent advisors. Applicant tracking is still a needed functionality, but there's more these systems need to be able to do to keep up with recruiters.
The modern day 'ATS' is a CRM for candidates – or a candidate relationship system. They are more candidate-centric, collaborative, and robust than systems of the past. Elaine would like to see the letters rearranged to 'TAS,' or Talent Acquisition Solutions, which more adequately categorizes the broad set of capabilities the modern-day ATS can handle.
Candidate engagement is crucial to recruiting success
Matt pointed out that, "We need a system of engagement, rather than a system of record." As Elaine mentioned, your only competitive differentiation is your talent. You're responsible for the caliber of candidates that go through the gate, and you need to engage the right talent to get them in the door. Kyle was excited about the announcement of Lever Nurture, but reminded us to use it for all candidates – not just new ones. This includes candidates who are already in your system, as well as company alumni, so you can build and nurture a strong talent pipeline.
William points out that candidate engagement should extend well into the first 120 days of employment. We woo candidates and treat them better than expected all the way up to employee onboarding, then fail to pass the baton. The new hire experience is crucial to retaining the employees you worked so hard to hire. He also reminds us that candidate engagement should also extend to the candidates you don't hire. Candidates want to know what's next. He says the biggest compliment you can get is someone who didn't get a job with you, and still falls in love with you. Those are the people who will send additional candidates your way, try to find a job with your company in the future, and speak highly of your company on Glassdoor and LinkedIn.
Automation is powerful, but so is human judgement
Matt cited that it takes 118 hours of sourcing for a hire, which is a waste of time. Between profile aggregators, Spokeo, and everything else out there, what used to be a very manual process can now be done automatically. It's easy to find candidates, but it's really hard to engage them.
Kyle pointed out that the ability to engage at scale and consistently, to convert a pipeline of talent into quality hires, can now happen more quickly than before. However, there is a sweet spot for automation to make sure recruiters stay relevant and necessary. Kyle warns that a computer doesn't have judgement, but that recruiters do. Data should not drive decisions, it should inform them. There is a balance to be struck. For instance, a computer may disqualify candidates who don't technically fit, but a recruiter may see something about the candidate that shows they would be a good fit for the role.
William also hopes that the ATS of the future will become more intuitive and recommend ways to improve processes. With automated insights, such as reflective and predictive analytics, the system could tell you things like which days are best for interviewing, and who your best interviewers are.
Conclusion
The term 'ATS' has become a swear word because many of the legacy systems have not evolved with the role of recruiters. While the job once entailed paper pushing, modern day recruiters are more aligned as talent advisors and need functionality beyond tracking applicants. The ATS of the future will need to help recruiters engage candidates, and will need to automate processes and insights so recruiters can focus their time where it's best spent.
To see the full discussion, please register to view the Talent Innovation Summit recording.