You've found a recruiting platform that aligns with the needs of your business and meets your functional criteria. Before pulling the trigger on a solution, though, there's one more area to dig into: implementation & customer support.
An unsuccessful implementation could lead to poor adoption, even if the software itself is high quality. Different vendors take different approaches to onboarding their customers and managing the vendor-customer relationship post-sale. Some vendors give new customers access to the software to input their information and run, while others follow implementation methodologies designed to set users up for long-term success.
So how do you vet implementation offerings across all the various recruiting platforms there are to choose from? Below are three areas to consider in your evaluation that can make or break your success.
Here are 3 ways to ensure a successful (and easy) software implementation:
Step 1: Check if there is a design approach to the recruiting process
While you may have existing processes that you wish to map into your new system, the most successful implementations happen when you don't simply do what you've always done before, but rather, lean into the possibility of innovating your existing process. The best implementation specialists are subject matter experts on recruiting and will be able to guide you through the ambiguity of change and give you clarity on how and why change will allow your team to recruit better and faster. They will empower you to leverage the capabilities of your new software to transition to an enhanced process  — a new normal for both your hiring team and company as a whole.
If you're looking to uplevel your recruiting strategy and execution, ask what the vendor can do during implementation to help you take hiring to the next level. This can also ensure your reporting is more efficient in the future. Vendors that are invested in your success will not only map critical existing processes to your new system and train you on the ins and outs of the software, but also advise you on process improvements that are aligned to your hiring goals and rooted in best practices.
Step 2: Ensure easy collaboration and communication  
Excellent communication keeps all parties on the same page about the project timeline, deliverables, and activities. Managing all of the moving parts of the implementation and completing the project on time are next to impossible if the project team does not share progress updates and discuss roadblocks to on-time delivery.
When speaking to different vendors, find out how they manage project communication that promotes accountability and transparency with their customers. While the vendor can't guarantee that the customer will uphold their end of the project plan, they can espouse a framework for collaboration that maximizes engagement and a strong working relationship between the vendor and customer.
Step 3: Ask about the customer support channels
At the end of a successful implementation, your new recruitment software will be optimized for hitting your headcount goals and you will be fully trained on how to derive as much value as possible from its functionality. But in your day-to-day, it's almost inevitable that additional questions will surface, or you will want a refresher on how to leverage one of the system's features in your hiring.
A robust library of self-service materials would enable your entire team to have thorough, valuable information at their fingertips about the software's features, and a top-notch customer service team would resolve any issues that arise in a timely and consultative manner. Truly customer-centric vendors will offer multiple support tiers to meet the differing needs that exist within their customer bases.
In your evaluation, gather information about the level of support you will receive from the vendor post-sale and post-implementation, service-level agreements and the availability of different support tiers, and the self-service resources that are provided to customers. Inquiring about these topics will help you determine the importance of the customer experience to the vendor.
And if you are still stuck, be sure to read user reviews on sites like Software Advice, Capterra and G2Crowd. In fact, in G2Crowd's Winter 2019 Report, Lever was rated #1 in the Relationship Index category.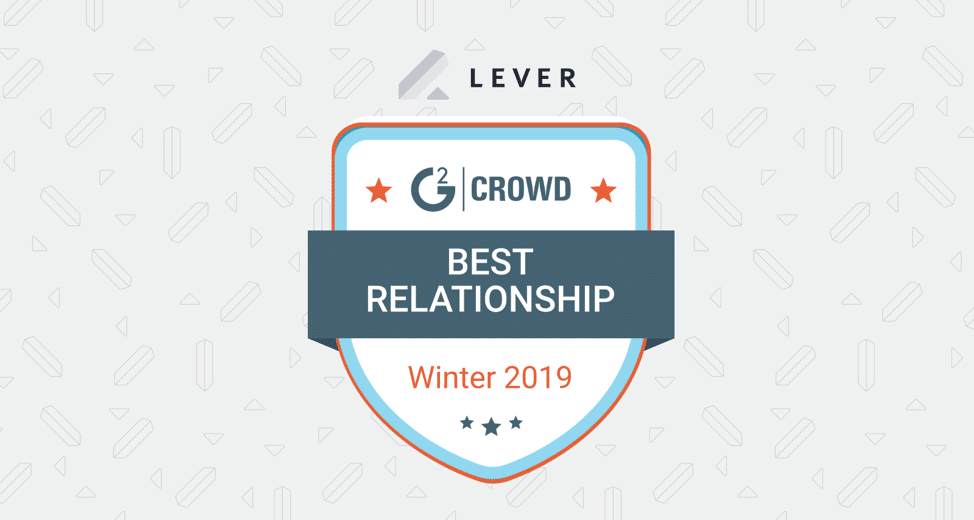 Final Thoughts: What Makes for the Best Recruiting Software Implementation?
Having conversations with your sales rep about post-sales support, and not just on features, is the best way to find out which vendors have prioritized customer success and will be able to support your hiring goals and strategy after they bring you on board.
It's critical to remember that not all companies invest as much in their customers as they do in new business acquisition, so you should not assume that white-glove treatment during the sales process will translate to white-glove treatment post sale.
By asking vendors questions about their approach to onboarding and supporting new customers, you will be able to decide if they can provide you with the necessary foundation for success and ensure that your system doesn't end up on your shelf of unused or underutilized software.
For more tips on evaluating recruiting software, check out our e-book on how to choose the best applicant tracking system.