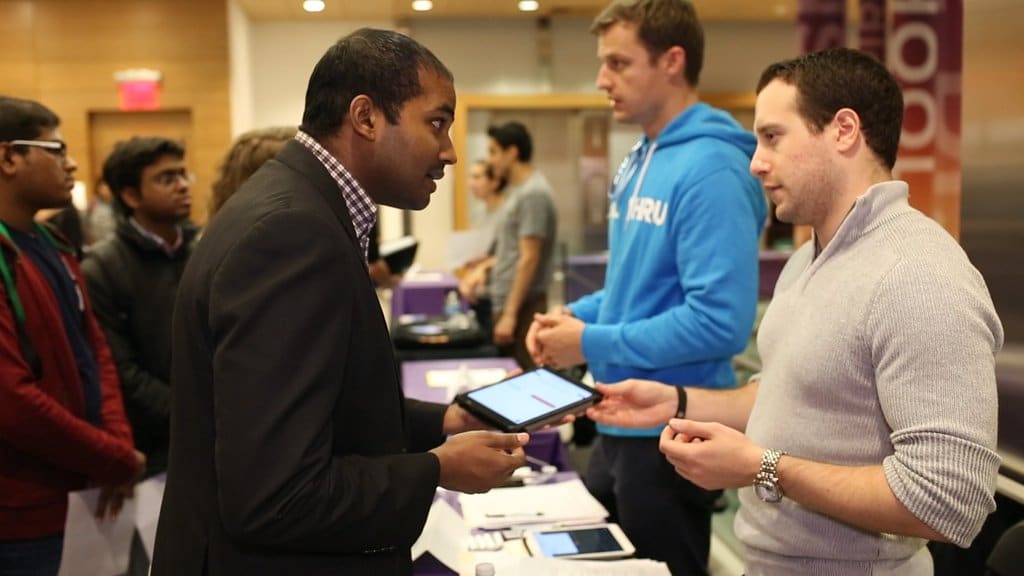 This article is a guest post written by Kevin George, co-founder and CEO of HireCanvas. HireCanvas provides university recruiting software to employers to streamline their campus process, save time and build university talent pools. To learn more about how HireCanvas helps employers optimize their university recruiting programs email Kevin at kevin@hirecanvas.com.
Younger employees command lower salaries, but there are many benefits to building a young talent pipeline beyond hiring 'cheap labor.' The c-suite and talent leaders are taking notice. Here are three critical advantages of recruiting young talent that leaders of talent acquisition cite:
1. Hire smart people over domain experts
Hiring is hard and it's easy to select the person with experience in a given field because "they've done it before," right?! In a recent webinar with Lever, Venture capitalist David Skok argues that domain experts will often get up to speed faster but, "if you get a stronger athlete that does not have expertise, they will overtake the domain expert in a short period of time and you'll end up with a better long-term hire." Lack of domain expertise can be a scary thing when considering bringing on interns, but the collegiate level is where some of the brightest, most ambitious minds live, or in David's terms, where the strongest athletes are bred. This is exactly why the consulting practice at PwC seeks out computer science and engineering students to fill client facing 'business' roles. Check out the 'minimum degree required' section of PwC's Deals Analytics Experienced Associate job description. Forget domain expertise – many of these students haven't even taken businesses classes – and yet because they are bright and motivated, they become great hires.
2. Fresh perspectives
Internship programs are no longer about getting coffee and filing papers. Interns do real work, often from day one. College graduates joining the workforce for the first time don't have bad habits to unlearn. They have unique ideas that haven't been influenced by 'the way we always do it' mentality. Aman Musafar, the University Relations Program Manager at Equinix, the global interconnection and data center company, put it best when she said, "you can truly feel the difference over the summer, it's a different type of charisma and energy having millennial talent around the office." It's the same reason diverse workforces typically outperform homogeneous peers – more perspectives. Forbes recently wrote an article based on a Mckinsey report, 'Why Diversity Matters' and suggested that – among other types of diversity like gender and ethnicity – age diversity is likely to bring a competitive advantage. That means it's best to hire a mix of experienced professionals and young people.
3. Thinking long-term
Joe Roberts, the lead of Talent Acquisition at Theory, a fashion brand, says that university recruiting has become one of CEO Andrew Rosen's top priorities. Joe paraphrased Andrew explaining, "In the fashion world, our customers connect with our brand, and our brand is a reflection of the people behind it. If employees career hop every few years, what are our customers connecting with?" Joe went on to tell me the story of his first job and talked about how everyone remembers their first job out of college. Making someone's first job a special experience builds serious loyalty that pays off through word of mouth years into the future. Joe isn't thinking about what a college graduate can do as an intern, in one year or in three years. Joe is thinking about the impact that person will have on Theory over their lifetime.
---
Ultimately, building a meaningful intern and entry-level talent pipeline, along with programs takes time and resources. It's not something you can dedicate yourself to halfway. But when your organization is ready, investing in developing or expanding your college recruiting program is essential to the growth of your company. Interns and entry-level hires are often the better choice over domain experts, bring fresh points of view and are a critical component of your long-term recruiting strategy.