This past October, we launched Lever Talent Intelligence powered by Tableau to provide our users with robust reporting in an approachable, highly visual format to fuel strategic discussions with every team member. We originally introduced nine pre-built dashboards that sought to provide immediate value for users with any level of analytics experience. Today, we are very excited to enhance Lever Talent Intelligence with three new dashboards to provide at-a-glance answers for some of the most critical recruiting questions:
"How close are we to meeting our hiring goals?"
CFOs, CEOs, and virtually all executives regularly turn to the Recruiting team to understand the percentage of headcount that has been hired and what it will take to fill the rest. With the Requisitions Overview dashboard in Lever Talent Intelligence, you can understand your progress towards overall hiring goals at a glance. And, you can break down the question of open headcount by particular geographies, departments, or even individuals to uncover trends and opportunities.
Looking beyond your percent to headcount goal, the Requisitions Overview dashboard also enables you to answer all the follow-up questions executives will ask – Are we tracking to hit our headcount goals? What do we need to do to get there? With insights into average time to hire, the number of candidates in your pipeline, and how many active offers are out, you'll be able to effectively stay on top of your goals and answer any questions that come your way.
"Which job postings are most effective?"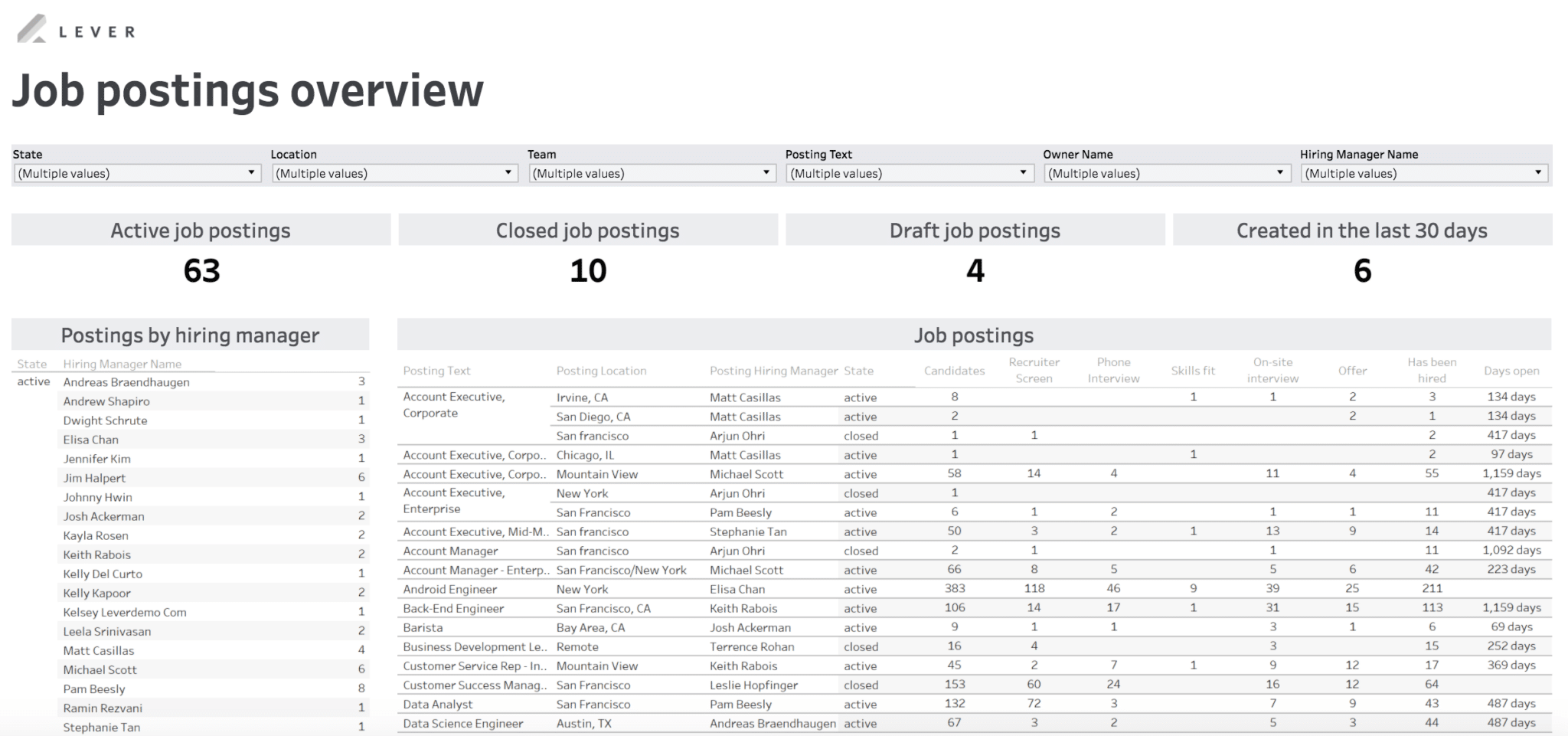 On the flipside of requisitions, job postings represent the external-facing, marketing aspect of each open role. The job posting is often a candidate's first interaction with a company and can greatly impact their likelihood to apply. With the Job Postings Overview dashboard in Lever Talent Intelligence, you can assess which job postings are attracting the most candidates and leading to hires or identify postings that may need a little extra work. This can be used to uncover trends between roles or across different offices and departments – Why are there more applicants for Content Marketing than for Product Marketing? Why are we hiring Account Executives in London faster than in Tokyo?
With recruitment marketing on the rise, this dashboard can also be used to A/B test similar postings against one another. For instance, if you are hiring a Data Analyst, you might have 2 job postings that take different marketing approaches – one for 'Data Analyst' and another for 'Data Scientist'. These tie back to the same role, but you're not sure which wording is more likely to attract the right candidates. With the Job Postings Overview dashboard, you can tell which job posting (Analyst or Scientist) is performing better and use that information to fuel future recruitment marketing decisions.
"How do offer acceptance rates vary by team?"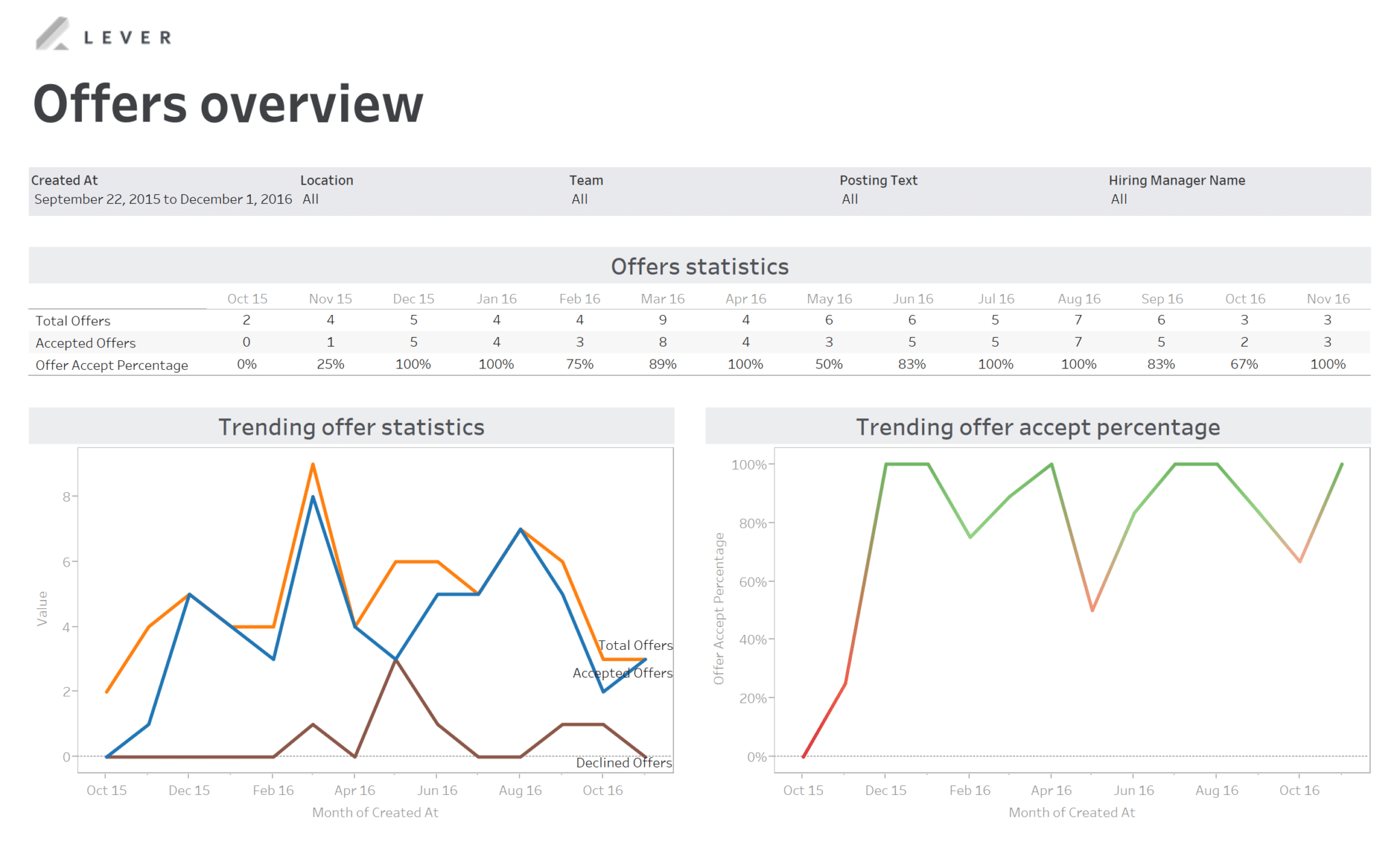 Understanding what percentage of candidates are accepting your offers is critical in evaluating the health of your talent acquisition strategy. If an inordinate amount of candidates are receiving and rejecting your offers, that could be a sign that you may need to change your hiring process or circle back with your interviewers about their selling approach.
With the Offers Overview dashboard in Lever Talent Intelligence, you're able to view how your offer acceptance rate has been trending over time. You can break it down by team, location, hiring manager, and more to better understand where you're seeing success and where there may be opportunity for growth. If offer acceptance rates in a particular area are trending down, that's a cue for you to go and investigate possible reasons – Why haven't we been able to hire an engineer in 6 months? Wow, the Marketing team has a 95% offer acceptance rate – what are they doing differently?
***
Have more questions you're looking to answer? Lever Talent Intelligence pre-built dashboards are just the start. With this fully configurable reporting platform, you can edit existing dashboards, build custom reports, blend recruiting metrics with your HRIS data, and much more to uncover the insights that will propel your talent strategy forward.
Requisitions Overview, Job Postings Overview, and Offers Overview, are live for all current Lever Talent Intelligence customers today. If you are interested in learning more about Lever Talent Intelligence, contact us at info@lever.co for a guided walkthrough.