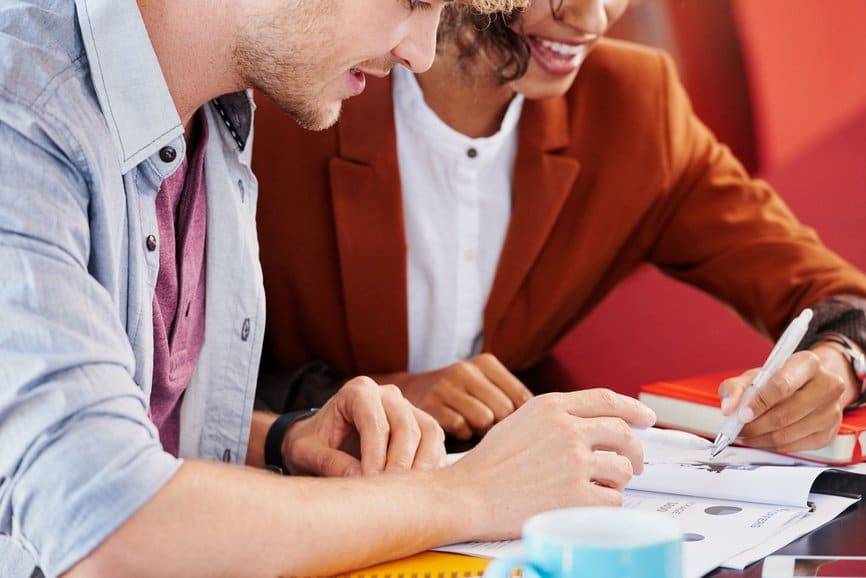 Hiring just keeps getting harder. Today, interview processes are more expensive to manage, positions take longer to fill, and candidates are more selective. At the same time, hiring has never been more integral to company success. Leela Srinivasan, CMO of Lever, believes that finding talent should be a priority at every organization. She also knows that with the right tools and strategies, you can transform hiring from your greatest challenge into your greatest advantage. In our webinar with her, Leela shared a whopping 13 hacks to empower you to hire for scale. Today, we'll give you a peek at 7. 
Hiring Hack #1: Blow up your job descriptions.
"Most job descriptions are this weird combination of depressing and ridiculous," begins Leela. They've turned into a tedious list of qualifications that the candidate must have. In protest of the classic job description, Lever creates "role profiles". The role profile documents what each new hire will own, teach their colleagues, learn on the job, and improve upon once they join the team. It tells them what they can expect to accomplish within 1 month, 3 months, 6 months, and finally 1 year in their role. Leela loves that this reimagined job description tells candidates what they will actually do when they join, and when they will do it.
Hiring Hack # 2: Interview like you mean it.
When you're scaling quickly, every person you hire should have a significant impact on the trajectory of your organization. "So why do we spend so little time prepping hiring managers and interviewers?", Leela asks. The recruiting process is a two-way conversation, and your candidate is likely talking to other companies. If your interviewers don't know anything about their candidate or the role they're hiring for, it's going to reflect poorly upon your organization. As will a panel of interviewers that asks identical questions. Not only will the repetition burn your candidate out and show them how unprepared your team is; you won't actually learn many details about their background. To avoid this pattern, Leela recommends that every interviewer in your panel ask different, complementary questions.
Hiring Hack # 3: Don't give up on top prospects so easily.
As a candidate, Leela is surprised when she only hears from a recruiter once. If you're reaching out to a prospect just once or twice, don't stop there, advises Leela. As long as you're polite, it's fine to continue reaching out, and you may actually guilt them into a response. Once, Leela felt so guilty for not responding to a reach-out that she actually gave the headhunter a referral. Even if your candidate isn't looking for a role at the time, remember that they may suggest someone who is. Also, remember that you can follow up later if the timing is not quite right for your candidate. In a tool like Lever, you can actually "snooze" candidates, a feature that reminds you to follow up with the candidate when the timing is optimal.
Hiring Hack # 4: Make LinkedIn your employer brand machine.
One day, Leela and Amanda, Lever's Director of Recruiting, decided to total the LinkedIn connections that each Lever employee had. After tallying them up, they found that Lever employees were connected to 45x as many people as were following Lever. Knowing that the team's network extended beyond Lever's, Leela and Amanda set out to transform every employee into a brand ambassador. Working with a tool called Brand Amper, they asked each team member to build a story based on their experience at Lever. Ultimately, Leela saw extraordinary, unique stories from 80% of employees, stories that conveyed Lever's culture and mission. These anecdotes were much more impactful than Lever's company page.
Hiring Hack # 5: "Call and coffee" your referrals.
We all know that employee referrals are an important source of hire. Jer Langhans, founder of Paired Sourcing, said it perfectly: "Double down on any candidate referral that comes your way. Don't take a 'we'll get to them if they're qualified' mentality. Call and coffee them." If you have coffee with a candidate, you can get a much clearer sense of whether or not they'll fit your current needs. Leela found her newest team member, Dana, through precisely this method. When she got an email from one of her former clients saying Dana was moving to the Bay Area, Leela took Dana to the coffee shop across the street from Lever right when she got to town. Three weeks later, she extended Dana an offer. After that, Leela told herself she'd never turn down a coffee meeting.
Hiring Hack # 6: Internally, talk about hiring. All. The. Time.
"Embed hiring in your DNA, and make it a part of your culture," says Leela. At Meeting Monday, Lever's weekly all-hands meeting, a leader from every part of the business will talk about how they're doing against their goals. Often, a member of the recruiting team will use this time to share the story of candidate who recently accepted an offer. With the entire company's attention, the recruiter will dive deep into that candidate's motivations and why they said yes to Lever. This in-depth glimpse into the hiring process makes the entire company feel more invested in it. And when the new hire then walks into the office for their first day, everyone knows a part of their story. Leela also remembers that Lever recently had a sourcing jam, a company-wide gathering wherein every employee focused on reaching out to their networks over snacks, drinks and laughs. These sessions and celebrations show your team that hiring is everyone's responsibility.
Hiring Hack # 7: Invest in the tools to do it right.
"Spreadsheets can only get you so far," says Leela. It's important to make hiring easier, simpler, and a process that everyone is engaged in. Leela joined Lever because she saw a tool that could truly streamline hiring, and she's excited to be a part of a team that sees hiring as fundamental to every company's success.
Conclusion
Digesting all these hiring hacks is no small feat, but neither is mastering the hiring process. As a key player in scaling your team, you may to want to reshape your job descriptions, change the way your team interviews, take a look at your coworker's LinkedIn profiles, and much more.
Want to hear Leela race through all 13 of her hiring hacks, yet still manage to incorporate tons of personal learnings and anecdotes? Listen to the full recording of the webinar here.